SUP Pumpe Triple Action
available
109,99 €
incl. 19% VAT Free Shipping
DHL immediate shipping: 1-3 days
Best price guarantee?
---
Triple action pump for Halkey Roberts valves
Out of stock
WHY TRIPLE ACTION?
The Triple Action SUP pump is designed for this iSUPs inflate as quickly and with as little effort as necessary. Arrived with the help of two cylinders Air into the board twice as fast as with a conventional hand pump.
Productdetails
Long: 64 cm
Broad: 35 cm
Depth: 12 cm
Colours: black and white pump with white hose
Cylinder volume: 2x 3,5L
Job Product ID: 410019004
Three different levels can be set
At the first stage, the board will be at about 5 psi (corresponds to 0.34 bar) pumped up the board is in shape. Both cylinders are used; Air is pumped both when pushing and when pulling.
With
Help of second stage will air to a pressure of 10 psi (0,67 bar) brought into the board. Both cylinders are still used, with pumping only when pressing.
The last stage is used for the maximum air pressure of up to 21 psi (1.4 bar) to achieve. Only one of the two cylinders is active when pressed.
Triple Action SUP PumpE: Advantage to conventional pumps?
Compared to a normal hand pump, the Triple Action Pump makes it possible to pump a large amount of air into the board at low pressure with fewer strokes at the beginning. The more air is already in the board, the more muscle power you need. Then it is advisable to use the second and third stage. The double handle is larger and therefore easier to grip than the handle of regular SUP pumps. There is an air pressure gauge in psi on top of the handle.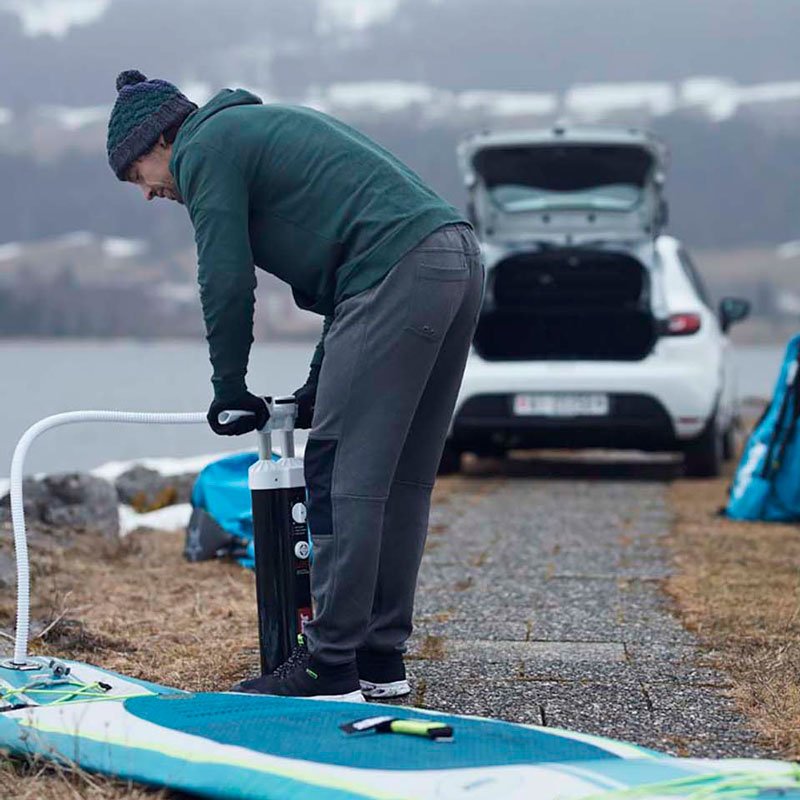 How long do I need to inflate my SUP?
It all depends on the muscle power you use 🙂
When using a conventional pump for the first time, you should expect 8-12 minutes. With the Triple Action Pump, inflation is a bit more comfortable and faster. If you plan to go on the water with the board often, this pump is clearly an advantage.
WE ADVISE YOU
You have any questions? We are happy to advise you personally. Get in touch with us!
What air pressure for my inflatable SUP?
In general, the higher the pressure, the stiffer the board. Due to more air pressure, the buoyancy is also significantly higher. This means that the board lies flatter on the water and also displaces less water when riding. The air pressure recommended by the manufacturer varies greatly depending on the model. In any case, follow the pressure specified there.
Our Jobe SUP boards should always be pumped to 20 PSI.
This allows you to ride faster and more stable while using less effort.
Customer experience.
The experience our customers have had with this product